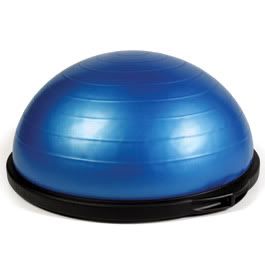 BOSU says tongue-in-cheek that if the dome of your BOSU Balance Trainer is purple, you are the proud owner of a collector's item—and that it is time to upgrade to the new Pro Balance Trainer. (Blue dome owners, that may go for you, too, if your BOSU gets heavy use!) Common signs of excessive wear include constant loss of air, misshapen appearance, or loose or missing platform feet on models that have them. The new Pro Balance Trainer dome is reinforced with an added 1.5 pounds of material and has a glossy finish, which should make it withstand more use and look newer longer. The non-skid platform provides great traction without rubberized feet and is non-marking. With average use, BOSU predicts that your Balance Trainer should last 3 – 4 years.

Lift, shift & shake: The BOSU ballast ball has a lot of potential applications in a club setting. Loose filling inside the ball adds several pounds of weight and provides audible feedback and dynamic resistance while in motion. When at rest on the floor, the weighting keeps the ball from rolling away. For beginning users, less core strength is needed for many exercises commonly performed seated or lying on the ball, so it can provide a nice first step before progressing to a traditional stability ball. For more advanced users, an expanded repertoire of strengthening and core exercises is possible because of the added load and stability on the floor.
Tomorrow we'll go for the burn with Fitness Wholesale!