What's hot:
SPRI's
Roll Out Ladder
was sold out by day two of the trade show, and I wished I had gotten there earlier. Anyone who has ever led a group training session with a traditional agility ladder knows how much it can scoot around on the floor. Well, the designer of the Roll Out ladder definitely had his or her thinking cap on! The ladder is made of a heavy duty, non-skid recycled rubber that resists bunching up. It will stay put on all kinds of indoor surfaces, as well as some outdoor surfaces. Put your order in now!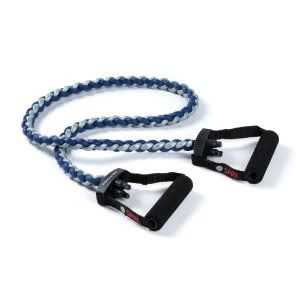 What's cool: SPRI has dubbed its attractive braided tubing line the "next generation in rubber resistance", and I have to agree. The Braided Xertube is four tubes woven together into a braided band. Each tube is plugged independently into the connector at the bottom, making it more durable than the traditional Xertube. The Braided Xertubes are still color-coded like the original Xertubes, with yellow being the lightest and then increasing resistance as you progress to green, red, blue and purple. However, the sales rep mentioned that by nature of the braiding, the yellow Braided Xertube will offer a little more resistance than the original yellow Xertube, but it is still easier than the green Xertube. The foam handle is a plus, too, if you are accustomed to the hard plastic handles of the original Xertube.
Tomorrow we'll check out the Step360 Pro!