What's new at Gopher: The Evolution Medicine Balls range from 4 pounds to 20 pounds and have a 14" uniform diameter, regardless of weight. The cushioned cover has raised panels for an easy grip.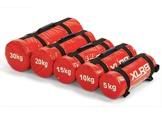 What's hot: The XLR8 Strength Bags are flying off Gopher's shelves, according to the sales rep. These pre-filled sandbags have four handles for multiple grips and exercise variations. They come in 11 lb, 22 lb, 33 lb, 44 lb and 65 lb sizes.
Tomorrow we'll see what's happening with the Halo Trainer!