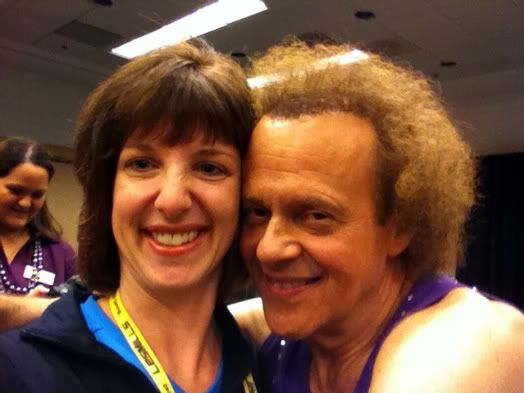 Richard Simmons is back, at least in my book. Actually, I don't think he ever left.
For those of you who don't remember, Richard Simmons was the underdog of the 80s gym scene. In a field cluttered with skinny, leggy and oh-so-chic aerobics divas, Richard made his mark by sidestepping the fabulously fit "it" crowd. Richard's videos featured real people, of all ages and body types, and he made a point of listening empathetically to their struggles with fitness and weight loss.
Gag me with a spoon, you might say. But after meeting Richard at Club Industry last week in Chicago, I can tell you he genuinely loves people. He loves moving and having fun, and he is passionate about helping others become more active. His advice to fitness professionals is very simple, and he shared the following tips for successfully attracting people to our clubs and classes:
Know no strangers.
Treat people like a million dollars.
Amen to that!
For more highlights of Richard Simmons' keynote address, check out the following links:
On YouTube: Dancing in the Streets with Lord Gaga. This video is classic Richard. . . with a few surprises
On YouTube: Right Said Richard. Footage of Richard as you've never seen him before!
Club Industry's feature article about Richard's keynote address.